Crusader Build I: Holy Glare Gun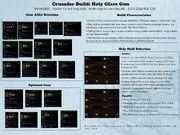 Build Characteristics* Heaven's Fury deals massive damage with Fate of Fell and stacked + holy skill dmg.
 Shield Glare provides effective crowd control and sufficient wrath generation,  by affecting all surrounding enemies with The Final Witness.
 Falling Sword helps player escape certain enemy crowd control effects, incapacitates surrounding enemies.
 Full Akkhan set and stacked skill cooldown reduction help maintain active Akarat's Champion and the availability of Shield Glare and Falling Sword. 
Holy Skill SelectionActive* Punish increases block chance and survivability.
 Fires of Heaven deals massive damage with three beams using Fate of Fell. It's a holy shotgun without relying on CDR.
 Zealous Glare blinds all surrounding enemies and quickly increases wrath with The Final Witness.
 Laws of Valor increase critical damage for team.
 Falling Sword Flurry gets player out of sticky situation and incapacitates surrounding enemies.
 Akarat's Champion Prophet buffs defense and offense and revives player.
Passive* Finery increases strength.
 Heavenly Strength is mandatory for Fate of Fell.
 Holy Cause increases damage and heals player.
 Divine Fortress increases armor.
 Wrathful heals player with stacked +life from globes.